The help you need when you are ready to make a change
Fast
You can sign up and get started in the next 30 seconds.
Private
All of the content is delivered to you in the privacy of your home or on your smartphone screen.
Personalized
Move at your own pace through this work, spending the right amount of time on the aspects that matter most to you.
The freedom for COURSE gives YOU:
Practical ways to break away from a struggle that has become unmanageable.
A roadmap to long-lasting freedom that has helped many others just like you.
Deep insight into your struggle and what it will take to turn unhealthy patterns with healthy ones.
Simple guidance on how to invite trustworthy people into your battle in effective ways.
All of this is organized in 12 Modules full of research-based, soul-mending and shame-free information and exercises that can help you break away from this struggle for good.
Check out the video above for all of the details.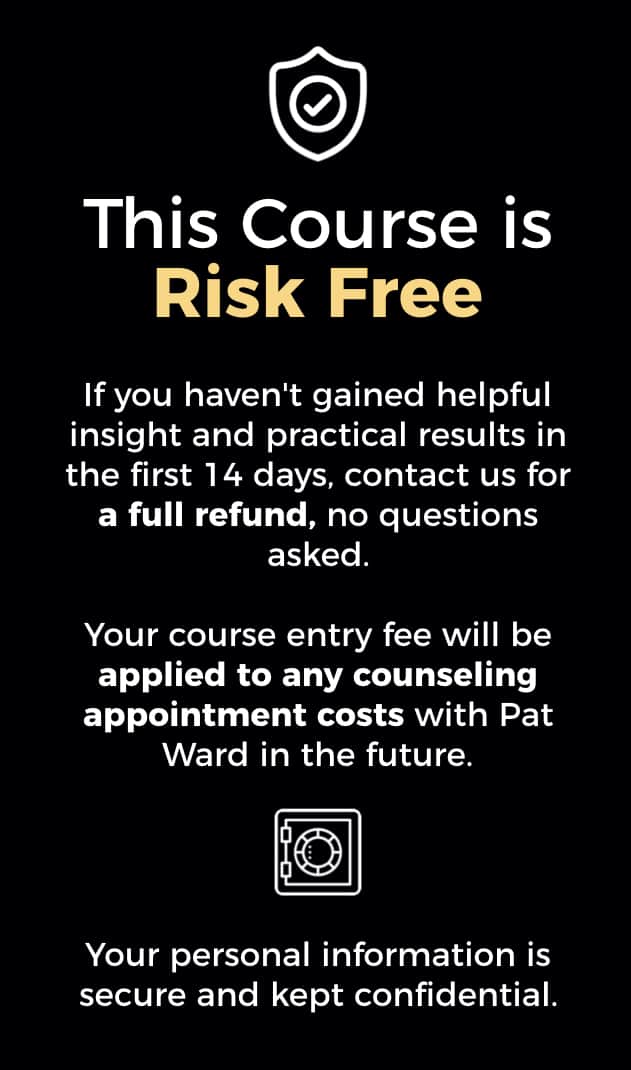 All communication is private and confidential
Frequently Asked Questions
What can I expect from each lesson?
Each lesson includes an insightful video and a series of journal prompts and exercises aimed at helping you to gain an upperhand on your struggle.
Is this a Christian program?
Freedom For was written by a counselor who tries to be more like Jesus every day. For Christians, this program can lead to a deeper integration of the Gospel and a closer walk with God.  At the same time, we realize that people of all faiths (and no faith) can struggle with the effects of pornography. Everyone interested in this program will be treated with respect and offered research-backed tools to help them take make the changes they desire, regardless of background.
What if I need more help?
As you will see in the first few lessons, breaking free of this habit may require more direct therapy or counseling to help process through major wounds or temptations.  If you would like to meet with a therapist in person or online, reach out to me through the contact form and I will schedule a session or help you find a therapist that's a good fit for you.  (Learn more about my individual and couple's counseling here).
What if I'm not satisfied with the course?
If you do not feel like the Freedom For Online Course has been helpful for you, reach out to me via the contact form within the first 2 weeks after purchasing the course and I will refund you the tuition fee, no questions asked.
Is this course for women too?
Yes!  It is intended for anyone who recognizes their struggle has become unmanageable and is ready for a change.
What if I can't afford the course?
I want everyone who is ready to make a change to have the tools they need.  Although the price for this course reflects the overhead costs and time invested in the project, we do have discount codes available for those who cannot pay full price.  If you are struggling with the cost of Freedom For, please contact me and I work with you to find a price that fits your budget.
About Pat Ward, LPC
In my practice, I get excited when I see people walk away from struggle and shame into the life that God has for them. I integrate the skills I learned in pastoral ministry, from my work with hundres of clients, and from research-based counseling techniques from my Masters Degree in Clinical Mental Health. Every day, I work with individuals and couples just like you to help them overcome obstacles, repair their relationships, and shape their story as they move on to the next chapter.
I also love to help people work through issues associated with grief, depression, anxiety, addiction, as well as marriage and relationship conflict. I'm a big fan of pre-marital counseling too.
I've been married for 17 years.  I have 3 kids and I'm trying to get better at the New York Times crossword puzzle.